Carne Guisada is a Tex-Mex favorite of mine for sure. I think you will find this Carne Guisada recipe about as simple as they come. One of the things I probably miss the most about not living in Texas is not being able to just jump in my car and drive a block or two and pick up a couple Carne Guisada Tacos. This Carne Guisada recipe will definitely scratch that itch.
If you have spent any time in Texas indulging in Carne Guisada, you've probably noticed there are quite a few variations. Some places serve Carne Guisada with a brown gravy and some serve it with red gravy. I've had it with and without diced potatoes although I prefer it without.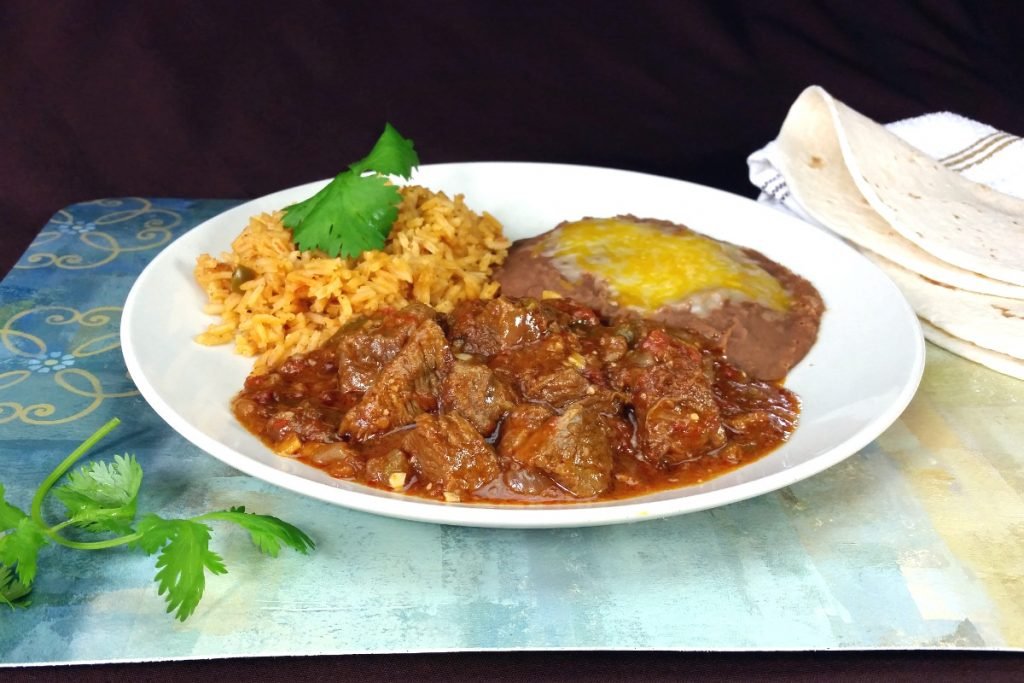 My favorite way to eat Carne Guisada is on a flour tortilla smeared with beans and cheese and toped with Pico de Gallo. My wife likes it on a flour tortilla with sour cream, cheese and pico. Serve it with hot flour tortillas with beans and Mexican rice on the side. How about Carne Guisada rolled in a corn tortilla smeared with beans and cheese, topped with onions, enchilada sauce and more cheese. So many choices…
Related Recipes
Products to help cook your Tex Mex Carne Guisada Recipe
Please follow and like us:
Heat oil in a large pot over medium-high heat

Add all other ingredients except the chocolate roux to the pot.

Simmer covered over low heat for one hour or until meat is tender.

Add chocolate roux and simmer another 5-10 minutes, stirring often until roux is dissolved and gravy is thickened.

Serve on hot flour tortillas. Top with cheese, sour cream, salsa, pico de gallo or whatever sounds good to you.
Most recipes for Carne Guisada call for beef stock. I have never needed it because there was enough liquid generated from the meat and veggies. You can have some on hand to add just before adding the chocolate roux in case it looks like most of the liquid has simmered away. You shouldn't need any more than 1/4 - 1/2 cup.